Home > Services > Mohs Surgery
Mohs Micrographic Surgery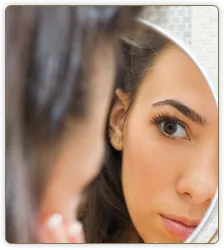 Mohs Micrographic surgery is a state-of-the-art cancer treatment that uses the precision of immediate microscopic examination of the cancerous tissue sample to ensure complete removal of the tumor. Mohs surgery is most commonly used to remove basal cell and squamous cell carcinomas and has many benefits for the patient. Mohs surgery offers the highest cure rate of any treatment modality for removal of non-melanoma skin cancers due to its accuracy in identifying the complete tumor. Mohs surgery is also highly cost-effective since it can be done in the office and has a very low rate of recurrence. Mohs surgery is a tissue-sparing procedure and is ideal for areas of the body where it is important to minimize loss of healthy tissue.
Mohs surgery is performed in our office while the patient is under local anesthesia. The visible tumor is excised (cut out) with a narrow margin and immediately processed by our on-site laboratory. The tissue is then examined under a microscope by our fellowship-trained Mohs surgeon who determines if cancerous cells remain in any area of the cut edge of the tumor specimen. During this time, the patient waits comfortably in a private room. Should cancer still be present, its precise location is mapped out and the patient is re-anesthetized. Another thin layer of tissue is excised in only the affected area, and all steps are repeated until the site is cancer-free.
Generally, closure of the wound occurs immediately after Mohs surgery is completed or on the following day. There are numerous options for closure and reconstruction and we tailor the procedure to the individual needs of each patient while maximizing the cosmetic and functional outcome. Our Mohs surgeon may use side to side closures in which wound edges are sutured together into a straight line. The surgeon may elect to let some wounds heal in by themselves if the situation allows. Flap or graft closures may also be performed for more complicated wounds. Occasionally, a very large wound or particularly complicated reconstruction will be referred to a plastic surgeon, ENT, or oculoplastics for closure.
Mohs should be the treatment of choice for basal cell and squamous cell carcinomas when:
The cancer is large
The edges of cancer cannot be clearly defined
The cancer is in an area of the body where it is important to minimize loss of normal tissue, both for a cosmetic and functional outcome such as nose, lips, eyelids, scalp, fingers, or toes
Cancer has been removed before and recurred or was found to still be present on the margins of a recent excision.
The tumor is an aggressive subtype of squamous cell or basal cell carcinoma, as read on the biopsy
Learn more about Mohs surgery at the link: http://www.skincancermohssurgery.org/mohs-surgery/mohs-procedure.php
Interested in Mohs Surgery from Westgate Dermatology and Laser Center? Call our Winston Salem, NC office at (360) 768-1280 today for an appointment!