Rosacea is a common skin condition experienced predominantly by patients of Northern European descent. This condition is characterized by symptoms of facial flushing and a spectrum of clinical signs, including erythema, telangiectasias, papules, pustules and prominent growth of sebaceous glands of the face. While medical therapies can be very effective at treating the papular and pustular lesions resembling acne, the background facial redness and telangiectasias are often best treated by laser therapy. At Westgate Dermatology and Laser Center, P.A. we use the Candela Vbeam Perfecta laser to treat the facial redness associated with rosacea. The Perfecta features advanced micro-pulse technology and the patented Dynamic Cooling Device™ (DCD™) cooling system, which all but eliminates patient downtime by preventing purpura (bruising). The Cynosure Elite+™ Aesthetic Workstation is a high-powered, dual-wavelength system that delivers energy faster for faster results. The Elite+'s wavelengths are the gold standard for hair removal, but also work great on facial and leg veins, not covered by the Vbeam.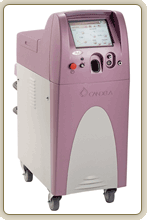 We carefully screen our patients for laser therapy for rosacea and always incorporate novel and effective medical therapies in conjunction with our laser treatments to provide patients with comprehensive treatment for their rosacea. Results are often seen within three to four weeks and typically two to three treatments are recommended.
Please contact us at 336-768-1280 to schedule a consultation. We're glad to provide you with as much information as you need about Vbeam laser treatment for your rosacea.