Home > Services > Dermatology
Dermatology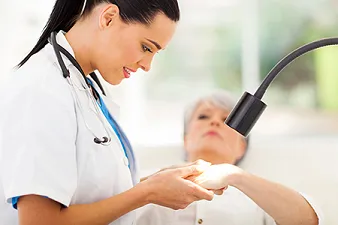 At Westgate Dermatology and Laser Center, P.A., we provide general Dermatology services for patients of all ages. Our providers are Board Certified Dermatologists and Physician Assistants with over 50 years of combined experience in the treatment of a variety of both rare and common Dermatologic conditions.
Some of the conditions we treat include:
Acne
Actinic keratoses
Basal Cell Carinoma
Squamous Cell Carcinoma
Malignant Melanoma
Rosacea
Eczema
Psoriasis
Solar Lentigos
Skin Hyperpigmentation
Melasma
Hair Loss
Fungal infections
Granuloma Annulare
Sun Damage
Discoid Lupus Erythematosus
Seborrheic Dermatitis
Warts
Rashes
Cysts
Perioral Dermatitis
And Many Others
In addition, we strive to incorporate novel, yet safe, therapies for many Dermatologic conditions. For instance, our patients with severe sun damage and numerous actinic keratoses, (pre-cancerous lesions) may benefit from the use of Blu-Light therapy. This technique uses photodynamic therapy to safely and effectively treat broad areas of sun damage.